"When it comes to talented young people, Nathan Pope is top shelf.  His musical ability and skill level on the guitar is well advanced for someone his age.  His classic blues riffs and edgy rock overtones sound like a veteran guitarist who has been playing for years.  It was an honor to have him on the Carolina Blues Festival stage.  His performance gave the festival a huge wow factor and he received rave reviews from the crowd." 
~ TL Lineberry, Carolina Blues Festival Chair 
"Sometimes you just "feel" it. 
You know what I mean: those chill-bumps that move up and down your arms when you hear the blues played so sweetly it hurts? 
Yup, that feeling. 
It happened to a whole room of blues fans when we all experienced the talent of young Nathan Pope on a December night at our Christmas Party.  It happened when we knew the person playing was connecting emotionally and mentally to the music.  That is Nathan Pope. Armed with a Goldtop and talent to match, Nathan brought a maturity to his interpretation of blues classics and his originals." 
~ Mary London Szpara, President Charlotte Blues Society 
"This guy will make you wanna throw your guitar in the trash and take up badminton. Seriously, I had to stop what I was doing and turn around and say who the hell is that? WHOA!! Blew me away! Keep your eye on this cat!!" 
~ Dr. Joe, President Natchyo' Grandma's Blues Network 
BIO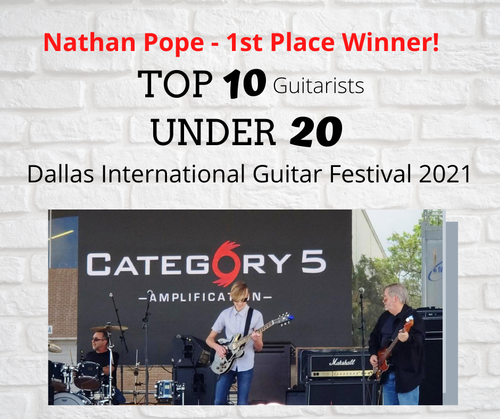 Nathan is a young blues guitarist from the heart of North Carolina. He received his first guitar at the age of 2 and was teaching himself to play by the age of 7. He gives credit to his Grandmother, Doris Powell, for her inspiration and love of music. 
Nathan spent years going to blues jams where he honed his craft under the mentoring of some of the area's finest musicians. For years now, Nathan has been performing at festivals and venues across the state with a band of his own and has even been featured in NC's renowned Our State Magazine as a blues guitar prodigy. For several summers Nathan ventured to Clarksdale, Mississippi for the Pinetop Perkins Foundation Workshop where he studied under the likes of Bob Margolin, Jonn Del Toro Richardson, Victor Wainwright, and Christone "Kingfish" Ingram. 
In 2016 he represented the Triangle Blues Society in the Youth Showcase at the International Blues Challenge in Memphis, Tennessee. In 2018 the Piedmont Blues Preservation Society honored him with their Mike Carr Junior Bluesman of the Year Award. He also released his first CD, I'm Not Alone, in 2018 which showcases his blues-rock roots.  Now in 2021, Nathan has received the tremendous honor of being selected as the 1st place winner of the top 10 guitarists under the age of 20 in the world by the Dallas International Guitar Show. 
His notable performances across North Carolina include Shakori Hill Grassroots Festivals, The Carolina Blues Festival, Centerfest, Sparkcon, Rowan Jazz and Blues Festival, The Rabbit Hole, Hippie Fest, Sunrise Theater's Blues Crawl, Fat Frogg, The Blind Tiger, and Motorco.  He has also performed at King Biscuit Blues Festival in Helena, AR, and Ground Zero Blues Club in MS. 
Nathan has developed a very supportive fan base that enjoys his unique twist on the classics as well as his own original tunes. He has proven that he can capture audiences in shows from modest indoor corners to large outdoor stages, from local markets to sharing stages with national touring professionals. Nathan never fails to entertain the crowd and leave them wanting more.